Saiko No Sutoka No Shiki is a spin-off of the original game, Saiko No Sutoka. It's a survival based on a horror game where you must escape from AI that activily hunts you down in unique ways.
KEY FEATURES
There are 3 new AI with different behaviours that can hunt our player in unique ways using trees to hide and stalk there prey below:
YUI (The Antagonist)
She is a new girl introduced in this spin off version and hostile to player; she attacks with scissors and can hide behind the tree to ambush you. She likes to throw some insults at you to lower your moral, then harrasses and kills Saiko. You must stop her in order to escape since she holds the key to the exit gate of the game.
SAIKO (The Zombie)
Saiko Chan came from the previous game Saiko No Sutoka, but this time she has turned into an undead. You need to get her help to defeat Yui, so that you can escape the game.
In order to defeat Yui, you might need to make sure Saiko becoming stronger and complete all her parts, then she can help you defeat Yui. Be aware! She can also get hungry and demand you to find her food or she might end up eating you instead.
ELISSU (The Yangire)
She was introduced as an easter in the previouse game, but in this mode she has her own dedicated mode; her AI is revamped to fit the new forest map. She has 3 phases in her complicated AI below:
Stalking Mode
This phase works when she stalks actively; she doesn't reveal her self or attacks. She will give you some hints by giggling, but you won't know where its coming from until its too late.
Playful Mode
In this phase, she will attempt to get close to the player and shove the player around such as attemps to do combat with player and might harrass the player, but she won't kill you; she likes to make sure the player doesn't reach the escape point.
Kill Mode
Be careful! In this phase, she will use any method to end the player and might resort to use many of her ways to finish the player without any hessitation.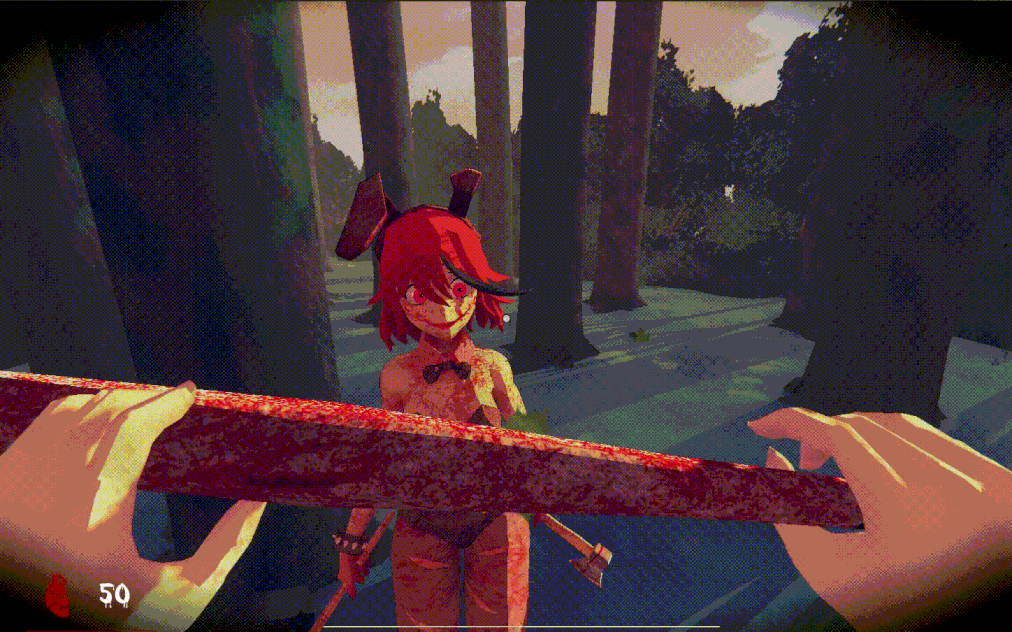 Combat system player can use melee weapon to fend off against other enemies and tries to survive with fully block mechanic to block attacks inflicted by the enemies.
Randomly generated forest map with 3 variations that the player might have a hard time navigating around. AI will use some trees to stalk and hunt the player including climing the tree and using the bushes to hide and stalk.
Multiple endings of the game contains of 4 endings in total. They would be connected with each other in order to give a final conclusion. If all endings are finished, so multiple playthrough is a must in order to fully grasp the meaning of this spin off.