Ninja Kidz Through Time is a 3D action beat 'em up game where players can play as the Ninja Kidz and save the world.
The three greatest martial arts masters have been kidnapped and Dr Disaster and his henchmen have trapped them in different historical eras.
The Ninja Kidz are the only ones able to cross the time vortex and use their abilities to rescue them and preserve the path of the ninja. Travel through time, from the Jurassic period to the future, to find and rescue the three martial arts masters.


Choose from 4 playable characters. Each Ninja Kidz has its own special moves and techniques.
Play solo or with friends in local co-op with up to 4 players.
Enjoy the colourful cartoon-style art design inspired by the Ninja Kidz.
Fight multiple enemies and defeat 4 bosses in fun epic battles.
Enjoy 3 game modes and challenge yourself to unlock bonus levels.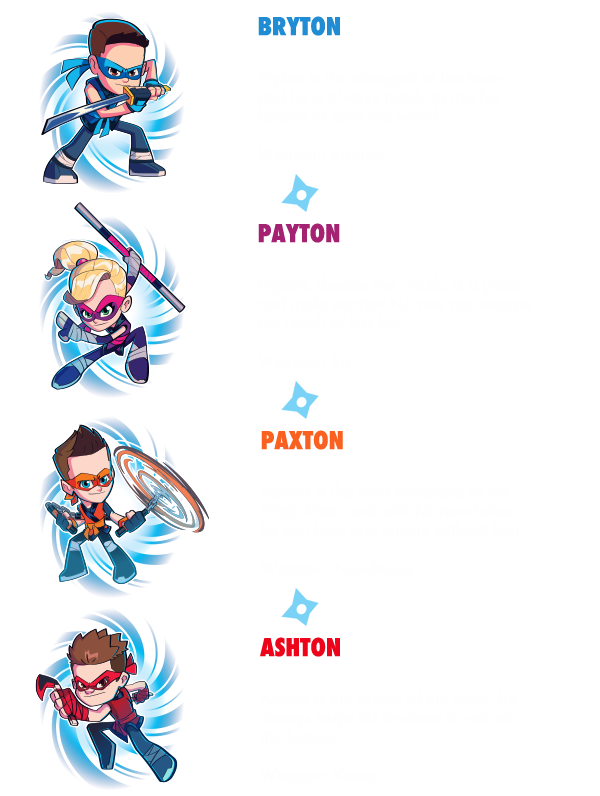 Story Mode:
Join the Ninja Kidz in their adventure to defeat Dr. Disaster, and bring back peace to the world. Travel through time and explore different eras by completing fun and challenging 16 levels. Unfold the story by watching cartoonish cutscenes. Explore all the levels to get extra lives by finding Ninja coins, becoming the ultimate Ninja Kidz, and rescuing all the martial arts masters by defeating the final bosses.
Boss Rush:
Face the bosses in the game one after another and defeat them all. Do you accept the challenge?
Quick Game:
Enjoy quick play sessions with friends by replaying each level after finishing the main Story Mode.