Head Coach Tactics uses a unique combination of real-time animation and turn-based strategy to create an exciting and strategic brand of football. It makes you think about your moves on the field, but doesn't make it boring.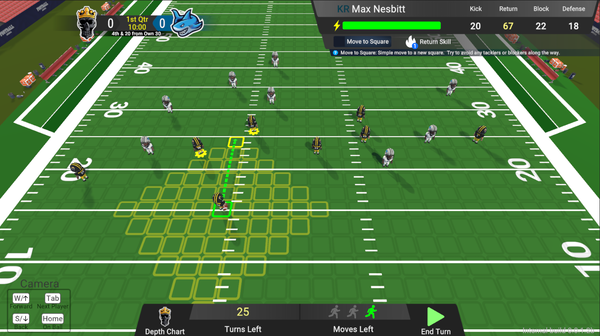 The process is simple, but also tactically deep. You call the plays by selecting a personnel package and formation to send out onto the field. At the snap, the game's real-time animation takes over and simulates the first couple seconds of the play as a way to making sure you always have something interesting and new to start with. Then, the turn-based part kicks in, and you need to figure out how to get the most out of your players, given the situation on the field.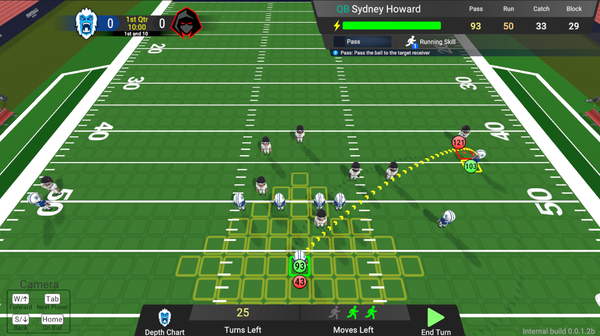 The unique style of tactics is an effective balance of decision making and simplicity. Something like the passing game in football can be exciting, so we tried to pull out all the unneeded complexity and focus on the strategy. Everything can be done with just a couple clicks! This allows you to focus on what really matters, which is putting your players in situations with the best matchups.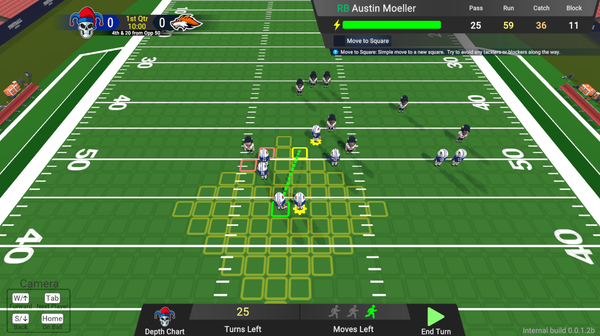 For those who love a power running game, we got you covered too! Running the game has been made just as fun as the passing game. Blocking is an important part of running the ball effectively, so you'll need to plan out your moves to create running lanes for your star RB. If everything goes according to plan, you could end up with missive holes and dominating on the ground!
Roster Building and Franchise!
Your success on the field depends largely on your ability to field a great team. To that end, we've created a robust franchise mode for you to craft your team to play the style of football you love.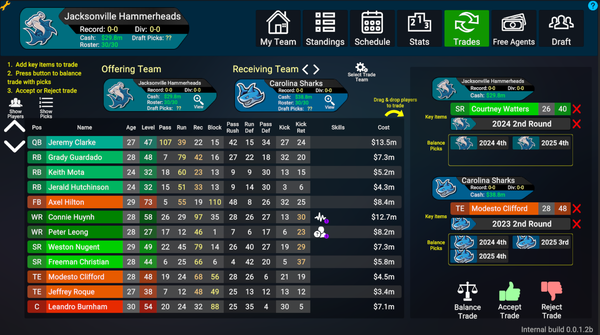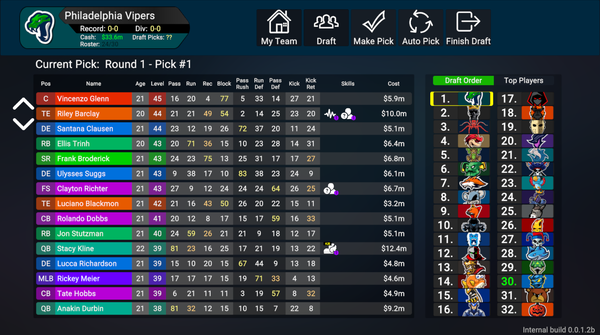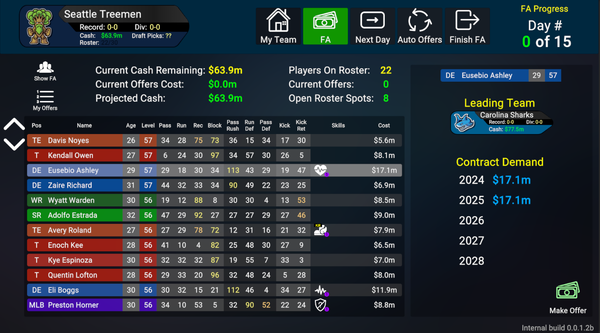 Weather it's drafting players for the future, signing that high-priced free agent for right now, or making trades to reshape the franchise, you have a deep and exciting franchise mode to flex your strategic muscles. Each phase of building your roster has been designed to provide a strategic challenge, but in a way that is easy to understand and not overly complicated. We've taken the approach that a streamlines and focused roster-building experience is more fun than complicated systems that are hard to understand. Since you will intuitively know what's important for each phase, you can spend all your energy coming up with the best strategy.
Even though we've streamlined franchise mode, we made sure to keep it deep and engaging. The other teams will always be looking for a edge, and keeping all your star players is going to be difficult. Sometimes you're going to have to make hard choices in order to assure long-term franchise health!
Turn-Based Football?
Why turn-based football? Well, it's something that hasn't really been done before. If you think about it, there's so much strategy that happens on the football field during a play. All the micro-second decisions that every player makes, how each player works within the system, and how the individual matchups play out, feels like it's the perfect candidate for a turn-based strategy game. We want to really explore what happens within a play, but in a deliberate fashion.