7 deadly sinners battle their way out of hell in this stained glass turn-based strategy game! On each playthrough, encounter different devilish enemies, powerful indulgences, and levels.
Features
Battles play out on a vertical stained glass grid. Units can jump atop or lift other units. Sequence your moves just right to line up the perfect turn!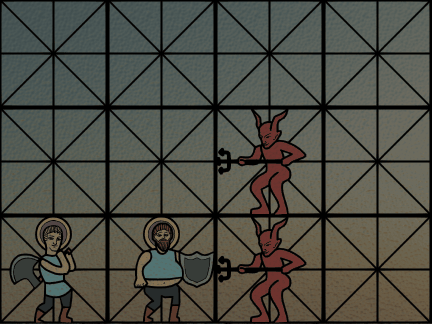 Get behind enemy lines for bonus damage. Be careful or you might wind up leaving your own units vulnerable!
Sinners each have unique attacks and sinister powers. Combine different sinners to build the ultimate crew!
Play as a crew of 3 sinners as they seek a second judgement. Make it out of hell to unlock additional sinners. Each turn, your units can move and attack. Be careful or your units will get killed on the AI's turn! Along the way, you'll acquire blessings and indulgences that will power up your units. Runs will take ~30 minutes to complete. Encounter different enemies on each run that will challenge your crew in different ways.