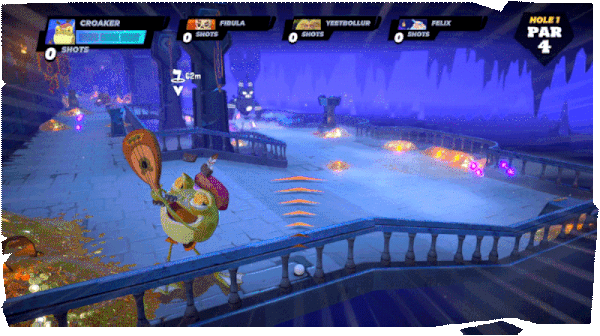 Dungeon Golf is a turn-based sports party game broadcasted to you live from DSN, the ONLY television channel dedicated to dungeon-related sports.
Out-play your friends in local and online turn-based multiplayer, or compete in single-player tours to prove you're the GUDGOAT (Greatest Ultimate Dungeon Golfer of All Time). Holes in one are for boring regular golfers, real pros shoot for the Holes In None!
Choose from a line-up of crazy dungeon golfers - from buff barbarian to wily wizard, to ... musical frog
(?? Is that right? Get Keith to double-check this before we add it to the marketing blurb)
- each with their own strengths, weaknesses, and unique powerful abilities, then boost them with $$$lucrative$$$ product placement sponsorship deals that make every round unique.
Tour the world and see fabulous sights! Battle Ratlings in the grand treasure halls of the Mountain Fortress, avoid Fire Golems and lava pits in the treacherous Volcanic Forge and try not to get cursed and fall off the windy peaks of the Ancient Temple.