Dimensional Animals
is a metroidvania platformer about five cute animal friends with crazy abilities exploring around different dimensions in search of the dog's play ball. He MUST bring it back to his human friend!
Join Bingo the dog, Scott the cat, Patolino the duck, Papo the frog and Tucker the racoon (special guest coming from Rift Racoon) in their perilous multi-dimensional adventure!
Each animal comes with a new skill you'll need to master in order to complete your quest!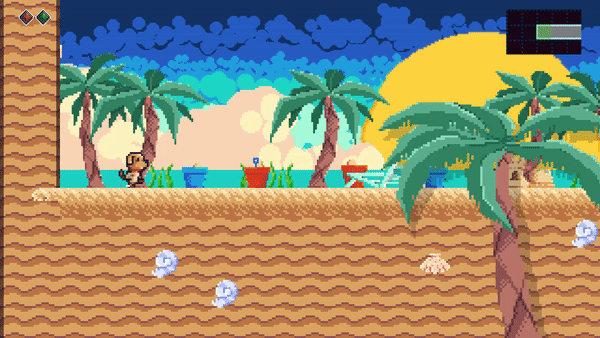 Main Features
One HUGE interconnected multi-dimensional level - You'll explore multiple dimensions with your sci-fi empowered animals. Traverse through portals to find new areas, uncover new unlockables and learn new skills!

Exploration comes with rewards! - Find up to 50 hidden diamonds and 50 health orbs to unlock new colors for your pets and improve your survivability increasing your maximum health.

Tight and juicy - Controls are fine tuned so that it's fun to climb and teleport around the game's environments!

Eye candy - Visuals are inspired by retro games and animation movies. Expect some colorful, cute and nostalgic sights!

Original soundtrack - Dimensional Animals will literally be music for your ears, with a soundtrack that changes depending on the gameplay situation!

Thrilling to complete - Completionist players will be pleased by a numerous amount of achievements to accomplish in this game!

It's just so cute! - Everything, from the colorful levels to the beautifully animated pixel art, will make a cute and fun experience. You're gonna have trouble deciding your favorite character!