Destroy The Monoliths
is a single-player real-time strategy tower offense roguelike where you explore a randomly generated map, mine the terrain to get resources, and build turrets to both protect your base and fight monoliths that keep spawning ever more minions.
EXPLORE
Discover
procedurally generated maps
with unique
biomes
(arid, volcanic, frost, ...) and
shapes
(dense, archipelago, river, ...). Enjoy a beautiful
3D pixel art style
with normal mapping and dynamic lighting.
MINE
Destroy
blocks
to collect tons of
resources
. Use different
weapons
to mine faster and more efficiently, or rely on automated buildings to get the job done for you.
BUILD
Place buildings to
protect your base
and
attack enemy monoliths
. Combine and synergize buildings from four different categories: offensive, status effects, support and biome specials.

FIGHT
Attack monoliths with your
main offensive buildings
. Protect your base from enemy minions summoned with other turrets. Use your weapons, shield and dash to fight alongside your turrets.
Collect XP
from damaged monoliths to
get upgrades
.

UPGRADES
Get
new weapons
and
new building blueprints
. Get
relics
that enhance your stats and offer unique effects. Upgrades are acquired for the whole campaign so they carry over to the following missions. Leverage your new powers to face the increased dangers as the campaign progresses.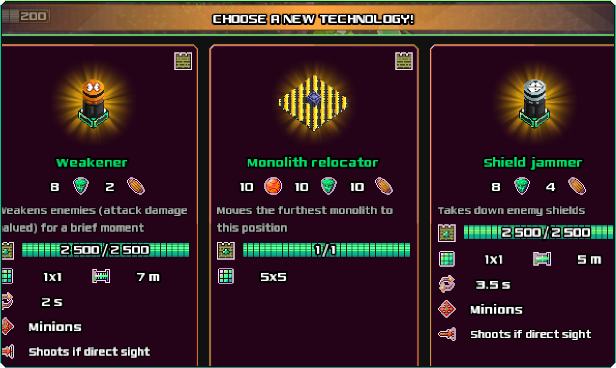 CAMPAIGNS
Play
procedurally generated campaigns
. Unlock various
game modes and initial configurations
to explore harder or different playthroughs. Get
achievements
. Fill your journal with
lore entries
.