Have you ever wanted to open your own restaurant? The game Catch and Cook gives you that opportunity. Fulfill your customers' orders while enjoying fishing and exploring the beauty of the ocean.
Catch and Cook is a fishing adventure game about a restaurant owner who prefers to do everything alone. Wander the seas, catch fish and cook your catch in your restaurant. Try out different kinds of fishing and do whatever it takes to make your business thrive.

Explore different areas by catching fish and taking orders. Each area brings new fishes, new mechanics and its own visual look to the game. And don't forget to look around - the underwater world will pleasantly surprise you: fishes swimming past you, a variety of underwater flora, the remains of sunken ships, chests and much more await you.

Catch and cook offers you four different types of fishing: rod fishing, crab fishing, net fishing, and harpoon fishing. As you move through the areas, you'll discover new ways of catching, each with its own special features. Try them all, because each fish needs a different approach.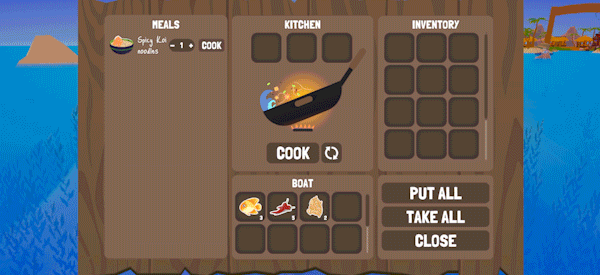 Every day you will have visitors who will order food from you. Since you are the sole owner of the restaurant, you also do the cooking yourself. Catch fish, buy the necessary ingredients in the nearest port town and go back to the restaurant, because visitors will not wait. Save money to open a new restaurant in a more picturesque and lively location. Get a wider variety of orders and continue to grow your business.
More Features
Relaxing, engaging, and highly varied gameplay, accompanied by a cute visual style

The pleasure of fishing and sailing

Cozy atmosphere

Wonderful soundtrack