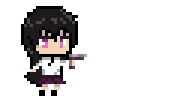 Shizuka's favorite thing in the world is coffee--caffeinated coffee to be exact.
But one day all the coffee in that world became decaf.
One man seems to be responsible.
With her giant spoon in hand and definitely non lethal firearm, Shizuka with her friend by her side, seek answers.
Key Features
Cute retro world with many paths, power ups, and secrets to discover ( with a clear destination for those who dislike aimless wandering)
Fast-paced, bullet-hell bosses
4 difficulties for hardcores and amateurs alike
Traditional hand drawn character art and illustrations in dialogue scenes.
Cute chibi girls
Changeable outfits
Post game content